As part of our May focus on the delocalisation of publishing, we spoke to Cathryn Primrose-Mathisen, a freelance copy-editor from Bristol specialising in science, technology, business and medicine. She is an Advanced Professional Member of the Society for Editors and Proofreaders (SfEP) and is based in the Norwegian village of Terråk in Bindal, Nordland.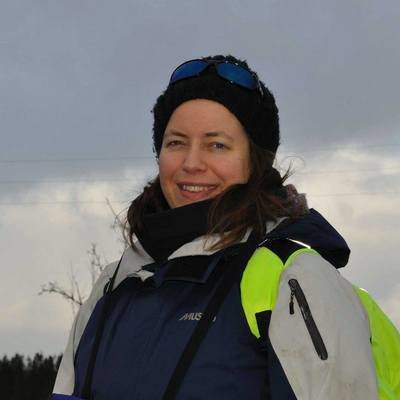 1. Before your freelance career, you attained an MSc in Oceanography, and worked for a company in Singapore, Houston and Trondheim. Did your subsequent freelance editorial career have anything to do with continuing this lifestyle?
My job was exciting and challenging but my life was unbalanced and it became clear during maternity leave in Terråk that it was time for a change. I valued the feeling of being free, both within nature and being able to decide for myself what I could take on and when. I knew from my career that I showed great attention to detail in quotations, contracts and technical reports, so I was confident that I would be a good proofreader. I found out that I'm most at home when I can intervene in a copy-editing role and I've recently been offered some developmental editing as well. Although there are sometimes overlaps between my family commitments and freelance projects, I know that I've been able to dedicate a lot more time to my family than I would have been able to in my previous job.
2. You live in Terrak, a small town in Bindal Kommune, Norway. What is the best thing about living and working from there?
The geographer and oceanographer inside of me are in heaven. Our small town is nestled amid mountains, fjords and rivers. We get elks in the garden, and reindeer and elks on the roads. Our water comes from the mountains and we have a freezer full of fish from the fjord. It's a great place for bringing up children. When someone needs help, the community supports each other. I've never experienced a traffic queue here – the nearest is when a car in front stops in the middle of the road to pick up an old lady to give her a lift to the shop, or to wait for the elks/reindeers to move on. My husband's family also live here.
Despite having a population of only a little over 500, I've found there to be a good client need for my copy-editing services and I've worked with the local doctor (on his PhD thesis and on medical articles published in BMC Musculoskeletal Disorders and the BMJ), a local landowner (his tourism website), and a non-profit organisation. I've also translated from Norwegian to English for the same organisation and for the local government. But Terråk is by no means the only source of my work – a computer and an Internet connection have allowed me to work with clients from around the world since turning freelance in 2010.
3. What are the things you do to maintain an effective freelance career in decidedly un-metropolitan surroundings?
In the early days I built a website and created a LinkedIn profile, wrote letters and emails to publishers, joined the SfEP and worked my way up so that I could have an entry in their online directory. When I had enough experience I created a brochure (which is now available on my website). Each year, I aim to: a) attend one conference (e.g. Aqua Nor, Oceanology International, SfEP), b) complete one continuing professional development course online or in person (e.g. onscreen editing, document control, diabetes management, business development), c) run at least one advert (in print or online), d) put posters up tailored to specific client sectors, e) attend as many community and business meetings as I can. I work hard to develop long-term relationships with clients and I support my colleagues by passing on opportunities when I can. There is limited traditional publishing in English in Norway and so it is important that I recognise and understand the needs of other potential client sectors. A local business development course was useful in helping me to focus on this.
I've experimented with different types of online promotion including LinkedIn and Facebook posts and ads, and tried some discussion forums, and I've decided to focus on providing informative posts and tweets about subjects related to my specialisms that will provide value to the person reading them, rather than trying to post too frequently. I'm also a member of the Nordic Editors & Translators (NEaT) association and hope to get across to Finland to attend one of their events soon.
I'm hoping that more virtual conferences will take place allowing the growing number of remote and freelance workers to network with exhibitors and colleagues from their homes, and also that traditional conferences will offer more livestreaming of presentations. Online meetings could also be used more frequently.
w_750 / w_1500
4. How does your specialist knowledge factor into the work you provide for your clients?
I've used my academic background to copy-edit or proofread journal articles, exam revision guides, and books on subjects such as marine ecology, climate change, and international relations, and I've applied my 14 years in industry to copy-edit oil and gas operating and HSE procedures. Experiences within my family and some work experience at my mother's general practice clinic have also enabled me to copy-edit medical articles and books. I can apply the knowledge acquired from A-level maths and physics and my university degrees (MSc Oceanography, BSc Geography) to be comfortable with the terminology used in scientific articles.
Aside from the operations management and offshore elements of my previous job, I also wrote and collated quotation and contract documents, data reports, conference presentations, case studies, project descriptions and product specifications. Applying knowledge learned in the field, I rewrote a wave buoy manual into more user friendly technical instructions and a deployment logsheet. These are all skills that I can apply as a freelancer in, for example, rewriting or precis writing.
I've lived in Norway for over 10 years now and this has enabled me to offer translation of Norwegian to English as an additional skill. However, I prefer to limit this to shorter documents such as press releases or website content. With the decline in the oil and gas industry both in Norway and elsewhere, I'm also trying to reach out towards the aquaculture industry, which is thriving in our region of Norway, and where my skills and experience can also be used.
5. Do you have any advice for publishing specialists considering a similar life away from the hubbub?
There are pros and cons to most decisions you make in life so think your career steps through carefully. Will you be able to survive on a significantly reduced income? What makes you special enough to stick out from the crowd? Could you learn a foreign language and can you fit in with the local culture? Do some relevant subject/business training before leaving your regular job if you can, while you still have the financial security. Spend sensibly and save for quieter work periods. Realise and respect that different countries have different cultures that may be very different to your own. This may also extend to the way businesses should be run. Check laws and norms regarding the use of accountants, tax reporting, sick pay, insurance, pensions, etc.
Once you are underway, give yourself time to step back from the deadlines and evaluate how far you have come and the direction you want to go in. This will help you to see whether you need to undertake additional training courses or target different client sectors. Be prepared that you might change your mind and want to return to your previous lifestyle (or salary!), location, or be closer to ageing relatives. Have you maintained your old network? Have you got sufficient savings? Do you have a plan for what will happen if you need more professional interaction again? Are you prepared to travel long distances to attend professional conferences or other events or meetings? Develop a flexible business plan.
Living remotely can be isolating. Get out of the house and meet people. Take part in community events or volunteering, join clubs, invite others out for walks (or whatever you enjoy doing), attend local and regional business meetings. Remember that there usually is no perfect solution, but having some control over life's priorities can be rewarding.